Log in Purchase – $16 USD/month (1-week free trial)
Practicing at home is a powerful way to optimize on time, keep your body feeling good and moving well, and optimize your budget! This collection of videos is a mix of manual release tools and targeted movement practices, designed to compliment one another in the process of enhancing the function of your tissues.
Take advantage of this online library and start leveraging the wellness tools available to you.
Manual release techniques can be an incredible way for you to lower stress levels and remove the extra tension that we often develop in the areas of our body that don't get as much movement. Backing that release up with movement then starts to create more lasting change and you'll begin to notice some substantial differences with a little practice.
You'll have access to watch and reuse these videos as many times you like, all for less than a typical drop-in class at a movement space! New videos will be added weekly. Plus you get a backdrop of the rainforest as a bonus. See you in there.
Try it out: 7-day free trial – $16 USD/month thereafter
---
Inside you'll find:
• Different length classes to suit your schedule, ranging from 10 mins to 1 hour.
• Classes themed to target specific regions of the body that are commonly in need of attention.
• Practical education about the human body while you move! Understand movements and sensations on a new level, and give your practice greater reasoning skills.
• The tranquil background of the rainforest to augment your auditory experience (the howler monkeys make themselves known regularly).
• Accessibility through the creative use of props and recommended adaptations.
• Cramps… well, it's true – some of these videos will give you a cramp – but that's a good thing when trying to build resilience of the body!
---
Snapshots of the library: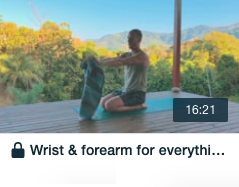 See you in there! Your body will thank you.