Returning to practice? Log in here
New to this space? Curate your experience.
You have options! Design the experience you'd like, with the option to go all-in with our full access pass (which gets you a weekly movement menu + all playlists), or you can really hone-in on the work you're looking for by selecting a specific playlist that meets your needs.
1. All Access Pass
This option gets you all the playlists (static) and the weekly movement menu (dynamic). The weekly menu changes, with a new release per week and 9 other practices you've seen before coming up again in a cycle.
The first week is a free trial.
---
Practicing at home is a powerful way to optimize on time, keep your body feeling good and moving well, and optimize your budget! Inside the virtual studio you'll find a mix of manual release instructional videos and targeted movement practices, designed to compliment one another in the process of enhancing the function of your tissues.
Manual release techniques can be an incredible way for you to lower stress levels and remove the extra tension that we often develop in the areas of our body that don't get as much movement. Backing that release up with movement then starts to create more lasting change and you'll begin to notice some substantial differences with a little consistency.
You've got options.
Take your pick of the "all access pass" to get a dynamic weekly movement menu (includes a new release each week) and all playlists, OR if you're here for something more specific, you can select the static playlist that suits your needs.
---
Option 1: All access pass
Try it out: 7-day free trial – $22 USD/month thereafter
The weekly menu has a rolling 10 practices with a new release included in that, all for just a bit more than a typical drop-in class at a movement space! Plus you get all playlists . Designed this way, it keeps the space dynamic and fresh, with practices disappearing and reappearing on the menu as the year progresses.
---
Option 2: Selected Playlists to target your needs
Plantar Fasciitis Runner's Knee Rotator cuff stuff Wrists & forearms
Instead, if you're here for something more specific, you can access a static playlist that matches what you're looking for. Each playlist has a series of practices designed to target either a specific area of the body or rehabilitation scenario. The videos in each playlist will stay the same week-over-week, meaning that if you're working on something more specific, you'll be assured that they'll be there each week. You'll also find a bit of writing on each topic within the playlist, for your curious mind. For more information on each individual playlist, hit the corresponding button above.
---
The all access pass get you:
• Different length classes to suit your schedule, ranging from 10 mins to 1.5 hours.
• Classes themed to target specific regions of the body that are commonly in need of attention.
• Practical education about the human body while you move! Understand movements and sensations on a new level, and give your practice greater reasoning skills.
• The tranquil background of the rainforest to augment your auditory experience (the howler monkeys make themselves known regularly).
• Accessibility through the creative use of props and recommended adaptations.
• Cramps… well, it's true – some of these videos will give you a cramp – but that's a good thing when trying to build resilience of the body!
---
Snapshots of the Virtual Studio: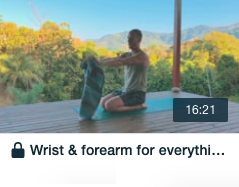 See you in there! Your body will thank you.
All access pass: $22 USD/month – Sign up now
Or select your playlist. Each playlist is $12 USD/month, no free trial.
Runner's Knee Rotator cuff stuff Wrists & forearms Plantar Fasciitis